Our family has some heavy butter users in it, and with the cost of butter going up that can really cost you. A few years ago my Mom started making our own spreadable butter. By mixing half softened butter and half canola oil (other oils work too) with our hand blender, we got a firm yet spreadable butter when chilled. It is just as delicious as regular butter, but nearly half the cost. You can also blend it in a food processor, use a hand mixer, or regular blender. I typically blend 2 lbs of butter with 4 cups oil at once to save time and clean up. You may just want to do one stick with 1/2 c. oil the first time to see if you like it. You can use this blend in some baking when either oil or butter can be used. My favorite cookie recipe uses it.
The Best Chocolate Chip Cookies
Sift together:
2 1/2 c. flour
1/2 t. baking soda
1/2 t. salt
In separate bowl cream together:
1 c. spreadable butter (1/2 oil, 1/2 butter)
1 c. brown sugar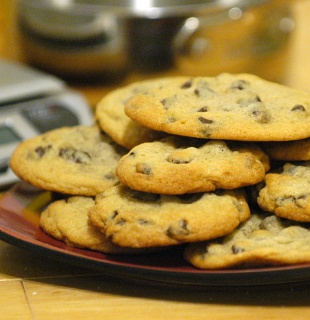 1/2 c. sugar
Add and blend well:
2 eggs
1 t. vanilla
Gradually stir in dry mixture.
Fold in:
1-12oz bag chocolate chips
1 c. chopped nuts
Drop dough by rounded teaspoonfuls on
ungreased
cookie sheets. Bake at 375F for 8-10 minutes. Makes 5 dozen. Beware: doesn't last long!
Enjoy!